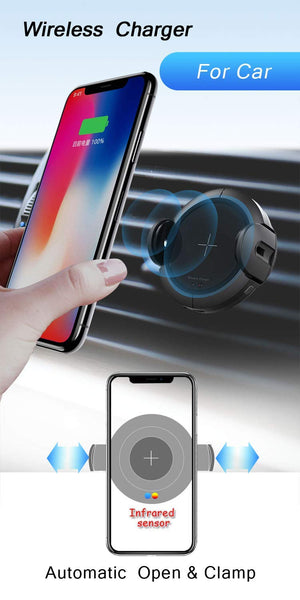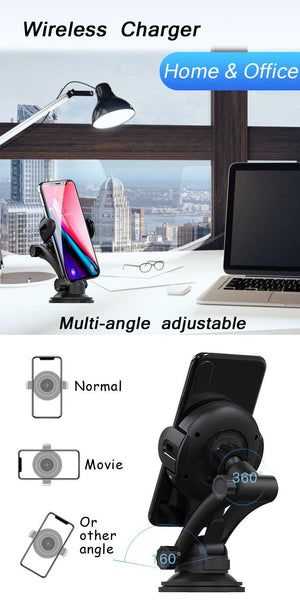 IdealTech 2019 New Wireless Car Charger Mount Phone holder Automatic Open Clamp Air Vent Mount with Infrared Motion Sensor for iPhone Xs Max X XR Samsung S9/S8/S7/S6+ (15Watt) Qi Fast Charging
INFRARED TRANSMISSION INDUCTION TECHNOLOGY: This Wireless Phone Charger uses infrared transmission induction technology to open the clamp arms automatically when it detects motions in less than 5 inches away. This feature enhances safety when driving and operating this device with one hand. The gear-driven mechanical structure ensures firm grip of phones and minimizes fall out even when the car jolts over the rough road. The phone is firmly gripped even when the engine is off.

QI WIRELESS FAST CHARGING TECHNOLOGY: This device contains a fast charging coil, 15%~25% more efficient than standard wireless chargers, whilst 20%~30% lower heat generated than other similar products. It is also compatible with almost all models of wireless charging mobile phones. It has overcharged protection feature. Adapters with 5V-2A outputs are recommended.

THREE INSTALLATION WAYS: The package contains two types of car mounts: suction cup and air vent clamp, to allow versatile placement on windshield, or dash board, or air vent grill. The universal rotary ball with 360 degree of swirl allows cell phones to orient in any view angle. Movable 3M strong rubber chassis provides firm mounting on the windshield or dash board and prevent fall-offs.

VERSATILITY IN OFFICE, HOME OR CAR: The device can be easily installed to offer a convenient wireless phone charging station in car, office or home.

ONE YEAR WARRANTY: Shop with peace in mind with one year warranty to cover any issues. First Class support for all customers. All inquires will be responded within 24-48 hours, and 100% satisfaction guaranteed.
-
Product description
2019 New Wireless car changer for your new iPhone!

3x Faster than the iphone regula charger!

This wireless charging cell phone holder was designed to combine charging and holding functions. It offers quick replenish of battery, ease of use and convenience while driving. There are two mounting mechanisms: 1) Air Vent Clamp is recommended to use in summer time as cool air coming out of the vent may help to cool down the charger; 2) Suction Cup is recommended to mount it on dash board or windshield in winter time to avoid the warm air from the vent.

Hold your phone near the infrared sensors and the robotic, non-scratch silicon arms automatically open/clamp to firmly grip your phone. Press the quick release button to easily remove your phone with one touch. Save time when you mount and charge your phone simultaneously, wire-free!

15W QI WIRELESS FAST CHARGER: Keep your phone charged while you navigate. Charge your phone at fast speeds, with fast charging available for Samsung Galaxy S9, S9 Plus, S8, S8 Plus, S7, S7 Edge, S6 Edge Plus, Note 5, Note 7. Please note: iPhone X, 8, 8 Plus, XS, XR, XsMAX, will charge at their own charging rates.

Note:
1.Please do not install this product on the car airbag or airbag after expansion can be reached area.
2.A 5V-3.1A or 9V-2A adaptor is suggested. Type-C interface (The adaptor with power rate less than 2A may affect the charging conversion rate).
3.The wireless car holder sticky gel gasket on the bottom has strong adsorption force, which can lift about 15 pounds of objects; reusable adhesive gel gasket can be washed with warm water, then dry it up naturally.
4.Please do not charge the phone with a metal-made protection shell.