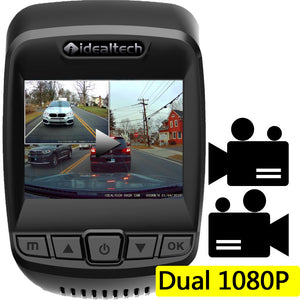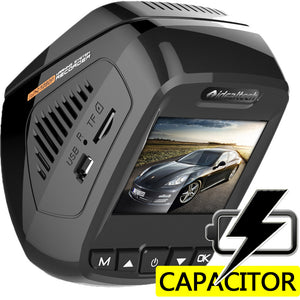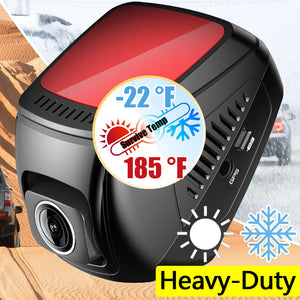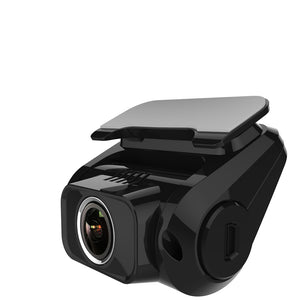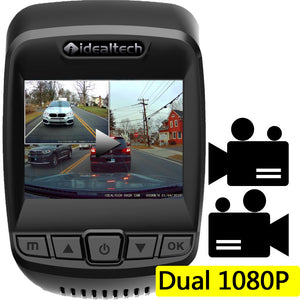 IdealTech X1D Dash Cam Front and Rear 1080P+1080P Dual Lens Built-in WIFI Powered by Super Capacitor Support up to 256GB TF Card
►

Dual 1080p Mode

🎥

🎥

: Powered by Novatek 96663BG, IdealTech X1D dash cam offers Dual 1080p record, Front 1080P+ Rear 1080P. 

►

SURVEILLANCE MODE (Time-Lapse Record): This feature drastically increases the recording time. On 1080P+1080P mode, it can extend recording duration to approximately 16 DAYS using a 256GB memory card if the camera is constantly powered on

►

HEAVY DUTY: New ergonomic and robust design improves product durability, reliability and safety. Enlarged interior space along with heat ventilation grills on both sides and bottom enhances the camera to sustain -20 to +80 °C ☼ in standby mode or☃ -10 to +60 °C☼ in working mode

►

SUPER-CAPACITOR, IdealTech X1 is much safer to operate, with no safety or overheat hazard that are common with Lithium-ion battery powered dash cameras.

►

INTEGRATED WIFI: You may connect cell phones to IdealTech X1 via WiFi then use cell phone to playback, forward, rewind the recorded video clips. This advanced feature makes it easy to show recorded evidences to cops or picturesque video clips to family and friends
- 
Product description
This completely redesigned IdealTech X1D dash cam is powered by NT96663BGN microprocessor and has integrated the conventional dash cam features with SURVEILLANCE function. 
💾It can record up to 16 days of high definition 1080p video clips in a 256GB memory card in TIME LAPSE RECORD Mode.
📷Advanced image sensor boosts resolution to 2160p and significantly improves brightness and clarity of images taken at night or in low light conditions.🚀It's a whopping 40% improvement over Micron AR0330 and 17% better than Sony IMX322.
⚠Safety and reliability have been drastically improved. NO battery overheating🔥 or explosion✹ concerns in that ⚡SUPER-CAPACITOR⚡ are used to replace hazardous lithium-ion batteries. 
🔨Each components on the motherboard are rigorously tested to sustain extremely high and low temperature or weather conditions.